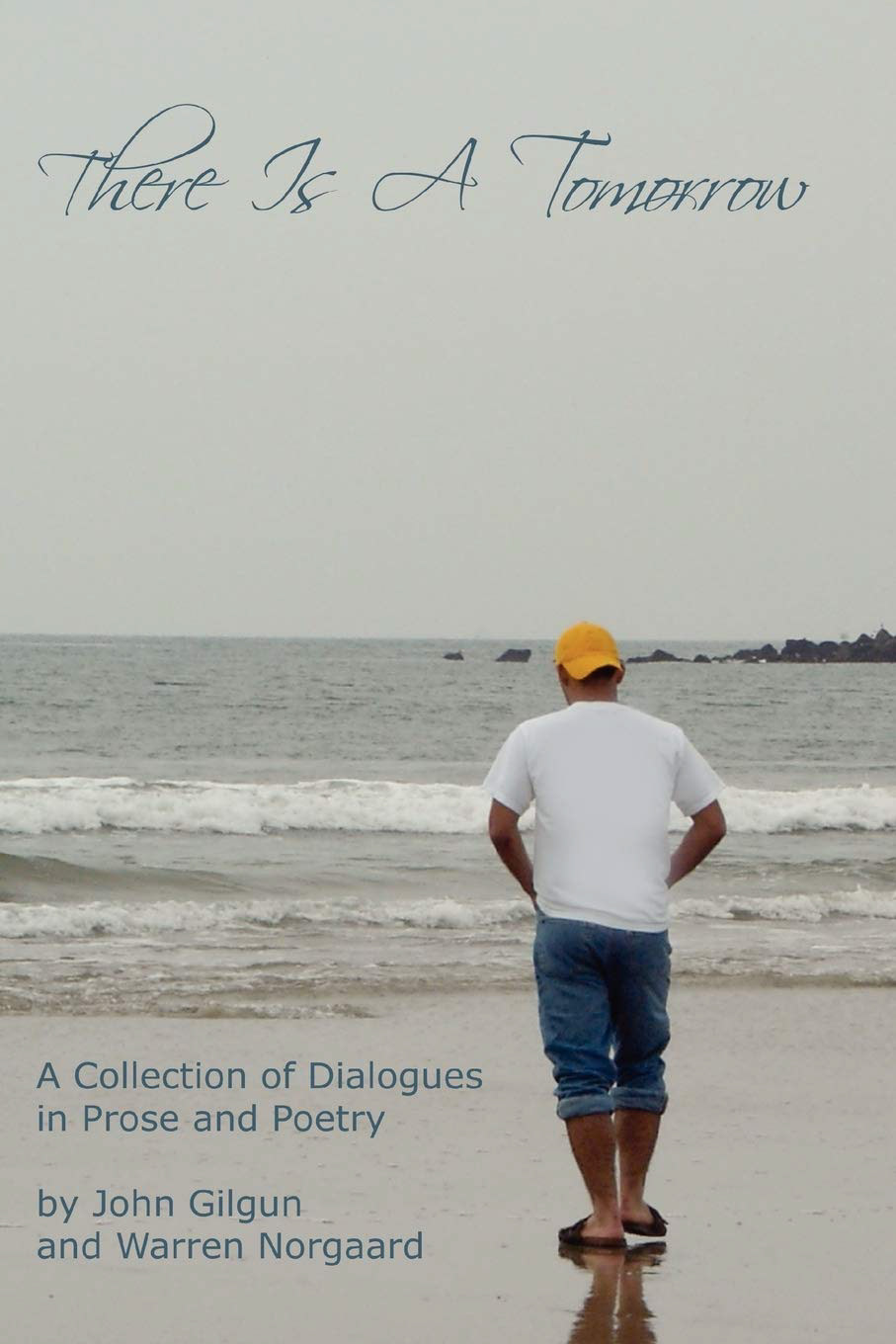 In 2007, Warren Norgaard and John Gilgun co-published
There Is A Tomorrow: A Collection of Dialogues in Prose and Poetry.
Deeply my soul is touched
a stare that reaches the far depths
I melt upon your haunting gaze
beyond the confines of imagination
into an era of examination
old wounds are healed with but a sound
the fire of ecstasy burns my flesh
with the sting of a new awakening
the lashes strong and sweet
opening my consciousness with every stroke
releasing my soul to live at last
with heat I feel the seemingly unnatural response
with utter abandon my body follows
my mind aware only of you
my ears open to your silent whisper
the world becomes another
new shades of color to accent
and yet I notice only you
my pleasure increases with thoughts of yours
unable to speak...yet very aware
your commanding soul my only focus
I feel your power and know my own
very distinct and yet one with the other
my mind does not understand the words
yet my body reacts immediately
my soul reaches to realize the words given
the words whispered with confidence
my mind lost in the sound
I whisper as I reach the new destination
and lose myself completely
In the heavy leather chairs of his outer chamber
With the events that have led you here...
Sitting and watching dirty films,
slouched in a comfy chair with my little friend
dancing about in that warm, mysterious bag...
The events that have led you here,
As I called my elderly neighbor
to make my travels faster
(I thought) than the others.
The events that have led you here...
to the loud ringing of the bells and
dusting the trees and children with a soft, silky ash.
The events that have led you here...
You could see that, to the right, a small pond
had collected with the spring rains.
While I lay in fold of flannel warmth,
drifting towards a bliss that is sleep,
Dreams of soft, gentle kisses
romantic walks along deserted beaches
full of fleeting promises
and softly spoken pet names
You, drifting into slumber,
your head resting on my lap
as I run my fingers through your hair
sitting in a provincial little cafe
lost somewhere in Europe,
no cares (in mind nor heart)
holding your hand in mine
and staring into your eyes
As light gently filters back into the room,
and the hassles of life begin to assault my senses
I awake, wrapped not in flannel, but rather
wrapped in you, where I once believed
only my dreams could take me
I lay awake, entangled in you, smiling,
running my fingers through your hair
as you slowly begin to wake,
fully clothed sheep-skin half-truths
with five loaves and two fish
for selling christ's body
would allow for new rules
playing cards with christ
pianos and rotting donkeys
being held by three hands
neatly installed into cardboard
buried into the green sky
and returning one minute short
Perhaps You Didn't Notice …
"If you ever came on to me I'd probably
melt like an ice cube." - John Gilgun
Perhaps you didn't notice.
It was discreet, I'll admit.
Intercourse, through email,
As that very first time. But,
Perhaps you didn't notice.
Once, I sat across from you
We made love in that moment,
And it lasted for days. But,
Perhaps you didn't notice.
We named the other one Ying
and is living up to her name.
We never know what to expect
when we walk out the door.
One day, I opened the door
and then hid in the bushes.
and hid under the door mat,
peeked out and wiggled her tail
until the kittens jumped her.
if I stop petting too soon.
she dashed out of the bushes,
and instead of going under it,
When we got home just now,
the door mat was half way across the yard,
She looks just like a German Shepherd
but with 3 inch long legs.
Uncertain figures seek each other out in newfound darkness
As hesitant lips touch, unsure of acceptability.
Now, as sunless sky streams through vertical blinds
Spilling lavishly over our warm and shaking selves,
We undress one another, meekly, feebly, carefully.
My palms, perspiring in anticipation, gently reach for you,
Caressing the small of your back, the form of your buttocks.
This body -- your body -- is so foreign to my touch.
Accustomed to different curves, in different places,
Unsure what to do. I am lost in the newness of this experience.
Our tongues meet in rich embrace, lingering in the taste of oral wines.
Passion fills my veins, pulsing hot where blood once flowed.
I bring you close, that you may bear down on me.
Enjoying every moment of your company, in my fear and confusion,
I bring my mouth downward, kissing your neck,
Then north, my tongue begging to probe the depths of your ear.
You squeal with enjoyment, arching your body upward. I am pleased.
Success, it seems, is mine, if only for the moment. Your hands
Roam my body, and I lay back to enjoy the warmth of your touch.
My soul absorbs your attentions eagerly, yet cannot succumb fully.
The urges to embrace your sex are overwhelming, and I must act.
Moving southerly, I embrace your manhood, gently, cautiously,
Hesitantly exploring you with my tongue and lower lip.
You are so warm and soft; smooth, rich with desire I cannot resist.
With passions bridled no longer, my lust runs strong; and stronger still
As I am unleashed wholly upon you, suddenly free of restraint,
And enjoying fully the taste of your flesh, every inch.
Story about my next door neighbor
Other nice Hollywood stars
Update on the life and times of
And you take me, in your car,
And you drive me, in the night,
To the place you hold so sacred.
And the moon shines down on us
And illuminates the valley walls, the rippling tide,
And it is as if the great spirits await your beckoning call,
And they come to life as you press the button on that old radio,
The one you bough in the second hand store for ten dollars,
And the music of the gods spills forth.
And you take me in your arms,
And you stare at the rippling waters,
And you turn to me once more,
And you ask the question,
"Isn't this the most beautiful place you've ever seen?"
And I already know the answer.
And I knew it before you finished asking.
And it is only for your sake that I pause,
And I kiss you upon the lips, oh, so gently,
And I say, "No, it isn't."
And it is not because this place,
But rather because I have seen
What majestic sights hide
In the caverns of my mind.
I Saw You At Golden Gate Park
I saw you at Golden Gate Park
or was it last year's DadaFest,
or the MOMA Magritte exhibit
or when they did the Threepenny Opera.
or that Ethiopian Restaurant on Mission
a frisbee at North Beach.
You would've been reading a book
or on your way back from an Indie film,
(thought by God I wanted to)
because I was with that other guy
or you were with that other guy
or maybe you looked unapproachable
or maybe I was too far away,
just checking you out with binoculars,
or watching your lovely upside-down image
through the camera obscura by the sea.
Anyway, I'm trying to find you
and maybe we should get some coffee
or at least talk about getting it,
because I'd love sitting across
from your bright intelligent eyes
(sometimes they were blue
they were this soft amazing grey)
and talking about your job
which you either love to death
you devote yourself to other things,
and talking about my love of photography
and exploring new foods at Cafe Istanbul
or talking about people passing by,
and how beautiful they might have been to know,
(here I'd mention "A Une Passante" by Baudelaire
and you'd smile knowlingly,
whether pretending to know or not
as long as you'd pretend for me),
if about nothing else than about
what an incredible coincidence it was,
your having seen these words which are,
of all the words everywhere,
after all about no one else but you,
and about the fact that I want another chance,
a chance at all with you.